Strategies and Tips for Doing Facebook Live.
Live streaming is all about connecting and interacting with your audience in real time. It breaks down barriers and creates a connection that transcends traditional marketing limitations.
It's predicted to be one of the hottest social media trends since 2016.  You can connect with a few clicks and be live with your audience. It is one of the fastest ways to connect with your audience.
Facebook will share your video more than any of your other posts. That alone is one huge reason why you need to be doing Facebook Live.
Below I share why you should be using Facebook Live, Tips to think about before you go live and Strategies to use Facebook live.  On my video I share more strategies that I do not list, so be sure to watch it.
Why You Should Use Facebook Live:
Grow and engage your fan base

Interact directly with friends in real time

Keep your video for friends to view later

Easy to create consistent video content

You can save your video and use it with other content like a blog post

Instant opportunity to create a better brand experience

You can start broadcasting your message immediately and have it appear in the news feed

Easy to share it within Facebook groups to get your message out there fast

You save time by being able to go live when you want and wherever you are…no prep time needed

You can share quick tips or strategies to help others

Give a behind the scenes look at your business, opportunity or product

You can broadcast live at events that you are at

You can host a live interview with someone else

You can share special live moments with family and friends

You can share your vacation live with your audience

You can share your story live which makes it more real

It let's people see who you are, your personality and get to know you the fastest way

You can use it to answer people's questions

You can inspire and motivate others

It's a great way to build relationships

Use it to give away something once a week etc for those that watch you live

Facebook live lets people share your live video with their friends and followers on Facebook

Facebook live is a great way to announce upcoming events, webinars or training's

Give a sneak peak at a new product that you are promoting before you launch it

You can engage with your members or team that belong to your Facebook groups for updates etc
Tips to think about before you go Live:
Make sure you have a good solid connection before going live. If your signal is weak, the "Go Live" button will be grayed out.
Use a selfie stick to get a better picture of you & so it's more steady instead of holding your phone
Use a catchy title with emojis to stand out

Use the same hashtag on all your FB lives…It's a great way for people to find your lives later on

Always have a call to action in mind to direct your audience to that is congruent to your FB live
A quality microphone that plugs into your device
Have a glass of water handy to clear your throat
Have a strategy or bullet points ready for what you want to talk about…you should never read from a script
Comment on 1-15 other people's content or FB lives to get more people on live to watch your live
Quality of your Facebook Live – low video quality, low user engagement, bad audio. Facebook is tracking these metrics and their algorithm makes snap judgements that decide how many people they are going to notify about your Live.  The better the quality, the better the reach.  If you lose connection, find a better place with a better signal and your live will try to reconnect you.
Length of your live video. 30 minutes reaches more people than 5 minutes would. Try to aim for at least 20 minutes

Email your list that you are going live & send to your messenger list too
Learn more Strategies and Tips for Doing Facebook Live For Your Business by watching my video below
Strategies to use Facebook live:
You can use it to promote contests

You can host an interview with other industry leaders

Ask your viewers to subscribe to receive notifications when you go live to build your audience

Ask your audience to give you likes and hearts.  Thank them when they do this.  

Once you give your audience part of your content or even all of it, ask them to share to their audience if they got value from it

Schedule special guests to appear on your Live. This is a great way to meet influencers, speakers and celebrities when possible. Tell them you'd like to steal them for a few questions and go. This works great if you are at a live marketing event to get speakers on live

Go live in interesting places that you think others would like to see.  A flower park, a walk on the beach or someplace interesting.

Engage with your fans by saying hello and their name, and answer any questions they ask. You can also state you will answer any questions in another Facebook live session & will go back and comment on any of their comments

Be creative and let your audience know when you will be going live if you have a set time. If you do your live's Monday through Friday, let them know that too.
Some things to do while you are live:
Ask your audience questions to get more engagement.

Ask your audience to comment where they are from 

Ask them to subscribe so they get notifications when you go live
If you want additional training on Facebook Live and get a free PDF then go here: 
LEADS WITH FACEBOOK LIVE!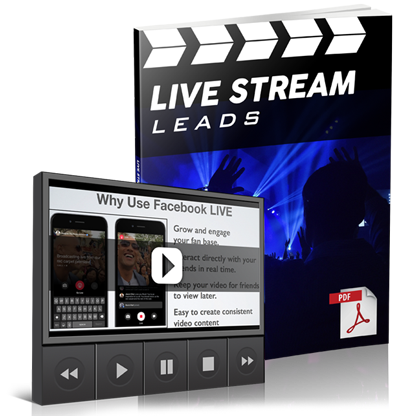 Discover the #1 fastest way to get 'Likes' on your fan page, create content for your blog, and engage your fans.
Reach out to me and let me know if these Strategies and Tips for Doing Facebook Live For Your Business were helpful.  Please comment and share if you got value from it.  Thanks much!
An added bonus from Social Media Examiner: 5 New Facebook Live Video Features for Marketers
Roxann Roeder
(320) 493-4903 
P.S. If you are not getting leads or have no one on your list, then you want to check out the #1 Lead Generation and Educational Marketing Platform for home based business entrepreneurs:  Check it out here
Visit my Website for Everything:
Like my FaceBook FanPage and get more value from my posts: