The most powerful methods on How to Build Your Authority Online are listed below.  Building Authority on your Website is a most powerful method of exposure. Find out below 6 more ways to build your authority online. 
Without a vision you will question yourself on everything. You will cling to evidence that you should have been farther along than you are or how far you have come.

Frustration is the difference (Gap) between where you perceive where you should be but with comparing yourself to others, you don't see what struggles other people went through before they hit success.

Overwhelm are all the training's inside of a system that you just joined up with and you have no idea where to start.  This is the awareness of things you should be doing that you don't. 

Weak Entrepreneurs say it's ok if you don't finish something or you didn't get to that today. Join the crowd as there are a lot of people out there that do this daily.  Doing something mediocrity is by telling yourself that if you gotta do it, then you should do it right since you gotta do it anyway. It is what you are doing and the way you are doing things….if they are mediocrity, you will stay that way. Mediocrity is disguised and confronts you. You don't have to stay where you are but without a vision you won't get past the tuf days.

The amount of time you should be punched in the face….when bad things happen should only be 2 heartbeats of negative and then go from there and figure out a solution to the problem.  Don't be negative or dwell on an issue, focus on the solution….Always! Do not say stuff like "I am not a leader" and instead say "I am happy & grateful of the person I am becoming".  That is the kind of positive stuff that should be coming out of your mouth and in your thoughts.

You have to create the perfect vision of what your perfect life will be.  You got to see yourself being a different human being than you are now.  Progressing to how you want to see yourself is a vision. 

If your reason is not spelled out exactly how you see it….the life you actually want….having that vision of your life the way you want it….it will never happen.
2. Immerse Yourself in your Market 
You need to be attending live events, being around others and learning what the marketers needs are. Socializing with other leaders and understanding what the community wants and needs from you.  Know your target market and what they need and want so that you can provide the solutions to those needs and wants.

Stop and look at who is it that you wan't to work with.  You want to work with the exact kind of people that you want to work with.  Immerse yourself in your market on who you want to market.
If you are going to be an authority, you have to be creating content.

People are more into research mode than they are in joining your opportunity.  

Do training's on everything out there. Become the authority in what you are teaching.

Look at keyword research by using Google Keyword Planner.  Look for keyword phrases to use for each of your blog posts, video titles etc.
There are always people that are looking for training's.  Share stuff like: 3 tips on how to…., or 7 reasons why…….3 marketing tips, these seem to convert the best.

People buy from authority figures. You got to do training's that provide solutions.

Creating content with blogging is one of the best ways to create content because you own your blog.  Blogging is essential.  If you're not blogging, you want to start. Your blog is your baby….bring people to your blog always.

Blog about what you learned from training's you have watched, what you learned from a live webinar, articles you have read…..there are so many things you can blog about if you really think about it.
Who do people see when they come to your website?  What is their first impression?

Your branding is your emotions, feelings, how people see you, what are their feelings when they see you.  This is part of your branding.

You could overcome a brand problem by your content.

Look the part of Authority and be the part.

Become and Aim for Authority. You have to become an authority before you will talk on stage, do webinars, interviews etc. 
5. Build Your Audience and give them Value 
You have to be generating leads. Focus on where you are going.  Swing and fight till you get there.  Fight until…….   Swing until…… you get there!

Give value, value, value in everything that you do.

Take notes from events, webinars & cash those notes in by providing content from those notes.

You will grow you audience by creating valuable content that provides solutions to problems.

Implement what you learn and what you are taking notes on.

Talk to 20 new people a day.  Find out what their pains are and provide a solution with what you can offer them.  The system you're in or whatever it may be.

You want to provide value daily to your audience.
You have to be positive with the language you are using to yourself and to others. Not only what you speak but also what your thoughts are.

You may want to say this sucks….but you can't say it sucks. Instead say I am learning and will figure this out.

You have to be conscious of your language always.  Your language will hold you back.

Inspire your kids on what's possible.  They listen to you, more than you think.
You have to find your fight mode to move forward and be the Authority that you are.
My friend Ray Higdon made a comment about the system that I am in.  He stated that MLSP has the best community and the best methods of recognition and exposure. No one else has what MLSP offers.
I never looked at it that way but MLSP is all that and so much more because of the value they provide and the educational platform which is like going to Harvard School.
THE TOP EARNER FRAMEWORK?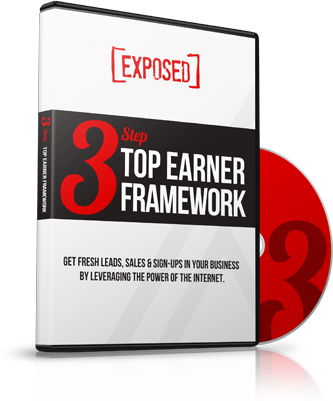 FINALLY Unlock the 3-Step Framework and Learn How to Get Fresh Leads, Sales & Sign-Ups in YOUR Business Leveraging the Power of the Internet.
Time to Live Your Dreams!
Become the Authority that you are!
Roxann Roeder 
(320) 493-4903
Email: [email protected]
P.S. If you want to know what the #1 Ranked Lead Generation and Educational Marketing Platform is for home based business entrepreneurs:  Check it out here
Visit my Website for Everything:
Like my FaceBook FanPage and get more value from my posts:
My Top Tier Business